Array
Coastal Cuisine
Bayside Elegance

Inside and out, Ocean Terrace offers a refined dining experience against the stunning backdrop of Cape Cod Bay. At this Cape Cod restaurant, take a seat and sip on a refreshing glass of wine while gazing over the water's horizon.
Guests can dine on elevated New England fare at every meal, including a grilled lobster roll with basil aioli, a hearty bowl of traditional clam chowder, and delectable oysters on the half shell. When the evening grows dark, gather out on the terrace and warm your spirits over fire bowls and conversation.
Important Notice: As per Commonwealth Guidelines, an item of food prepared on site must be ordered with an initial alcoholic beverage order; no exceptions.
For inquiries, please call 774-323-6013 or email dining@oceanedge.com
Our Seasonality
Ocean Terrace is open year-round for breakfast, serving brunch on Thanksgiving, Easter, and Mother's Day. Lunch and dinner are served following mid-January.

Phone:

508.896.9000

Hours:

Breakfast: 7:00 a.m. - 10:30 a.m. 
Lunch: 11:30 a.m. - 3:00 p.m.
Dinner: 5:30 p.m. - 9:00 p.m.
Bar: 11:30 a.m. - 9:30 p.m. (Opens at noon on Sundays)
---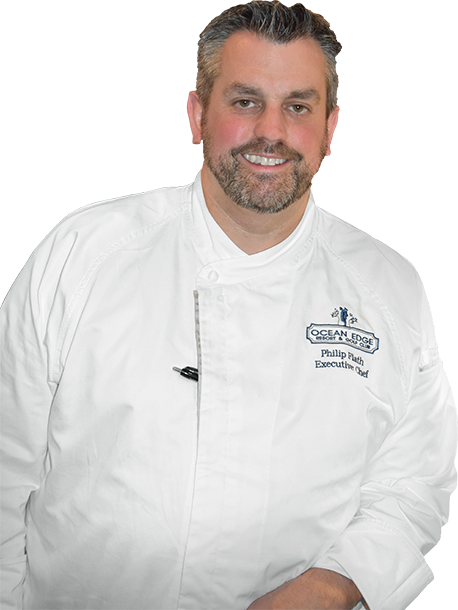 Executive Chef Philip Flath
"My Culinary Philosophy: Create experiences utilizing the highest quality ingredients, cooked to perfection on a consistent basis, and presented in an artistic fashion. At Ocean Edge, the focus of each menu is to utilize ingredients indigenous to the region, centered around seafood."
"Good food & great outdoor seating!"
"We had lobster rolls and we loved it. The food was fresh and tasty... Will definitely go back if we are in Brewster, MA."

suwanatatnina2, TripAdvisor
"First night dinner was excellent"
"We all enjoyed fresh fish after seeing the sunset on the terrace. This was one of the best meals we enjoyed on Cape Cod."

v, TripAdvisor
"Lunch, outdoors"
"It was fabulous- an outstanding location, excellent service, and delicious food… I would go back in a heartbeat."

Fearless801461, TripAdvisor