Array
An English-inspired Cape Cod Pub
Vintage Charm
Whether you're watching the big game on a flat-screen TV or sipping a craft beer and listening to live music, Bayzo's Pub is the ultimate spot for flavorful bar cuisine in a cozy atmosphere to match. Located on the lower level of The Mansion, this old-fashioned English-style pub offers comforting favorites all year long.
Signature dishes include the Lobster Calzone with ricotta, mozzarella, roasted mushrooms, and asparagus, and, of course, there is no going wrong with the Pub Burger which comes with cheddar cheese, bacon, lettuce, tomato, pickle, brioche bun, and hand-cut French fries!
And new this summer, we have the Après Dinner at the Pub live music series! Music at 9:15PM | Open to the Public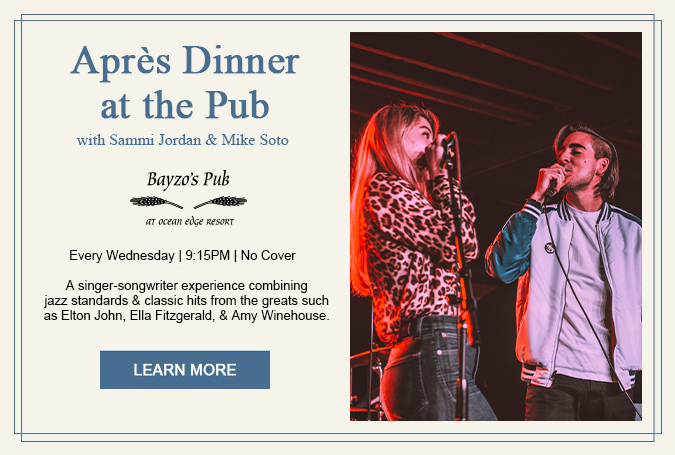 Our Seasonality
Now Open

Phone:

774.323.6012

Hours:
---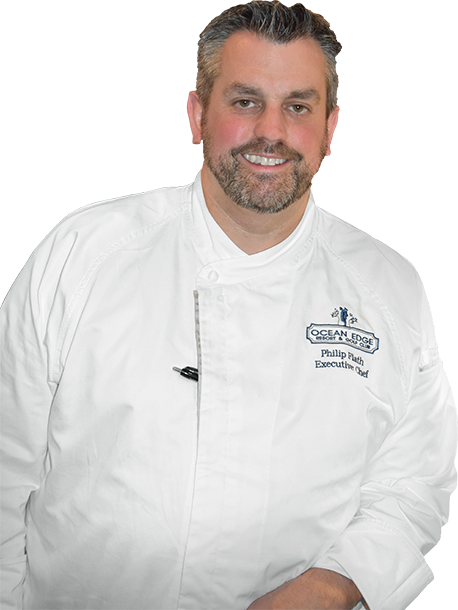 Executive Chef Philip Flath
"My Culinary Philosophy: Create experiences utilizing the highest quality ingredients, cooked to perfection on a consistent basis, and presented in an artistic fashion. At Ocean Edge, the focus of each menu is to utilize ingredients indigenous to the region, centered around seafood."
"Great burgers!"
"The namesake burger, Bayzo's Signature, was amazing! Guinness glaze, gruyere, bacon, and fried onion cooked to a perfect medium-well; juicy and delicious."

NationalTraveler09, TripAdvisor
"Best Lunch in Brewster"
"The atmosphere was truly pub-ish. Love it. The waiter was wonderful, and we'll be returning again this fall."

DMandDM, TripAdvisor
"Great food. Personable, friendly bartender"
"Comfortable and relaxing. Pizzas were outstanding. Bartender Jeff was friendly, warm and professional. Enjoyable evening at Bayzo's Pub!"

Tour260205, TripAdvisor
Gallery
bar area at a restaurant with cushioned brown leather bar chairs

interior of a restaurant with brick walls and arched entryways, bar area, and table seating

burger with fried onions, a bin of fries and a glass of beer

oceanedge bayzospub imagegallery

lobster roll on grilled bread with a basket of fries and glass of beer

oceanedge bayzospub imagegallery02